Pro-Tect Asphalt ships to the United States from Canada.
Now is the time with our Canadian dollar so LOW!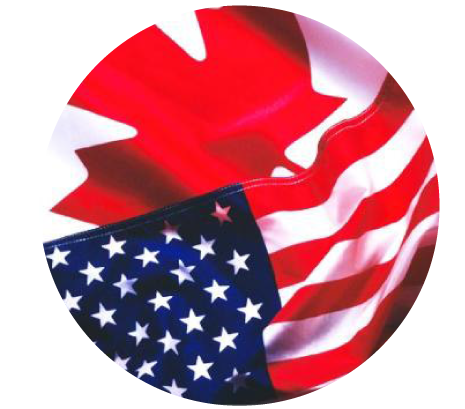 Pro-Tect Asphalt has been an asphalt business for over 30 years and through our attention to developments in the asphalt industry we have grown to be a national leader in asphalt spray systems with international expansion targets. Pro-Tect Asphalt offers the best brands in the industry, including Little Wonder, Billy Goat, Titan Tools, Graco, Sweepster, Keson, Unique Products, West Torch, Ennis Flynt Paints and American Stencils. With the strong American dollar – there is no better time than now to order your quality Canadian asphalt products from Protect Asphalt Online and instantly have your product shipped in to your location in the United States.
Our knowledge and expertise in spray systems have advanced. We now are sought out as experts for customized systems, designs in specialized fields for pump and spray applications within North America. We work with some of the best pump brands including Viking Pumps and Albany Pumps which have ranges in GPM's from 10 to 100 GPM. Some of the products we manufacture are Seal coating machines, 10G Melters, Pour Pots, Crack cleaning brooms, Hot asphalt carriers, undercoating & rust-proofing machines, rubberized sprayers and Airport De-Icing Machines. Don't see what you need on our list? Give us a call and we will gladly customize any unit you will need. We have a rock solid reputation for quality, performance and advanced solutions. We take great pride in our customer service and it is second to none.
We've got the experience and knowledge to answer just about any question about asphalt spray systems and asphalt pavement maintenance products from 10G Melters to Titan and Graco Line strippers as well as the latest spray tips and paint nozzles for your spraying units and line painters . We always make time to offer the best solutions!
ORDERING IS EASY!
It's Simple. Find the product you want – add it to your cart and start ordering your Protect Asphalt Online Product instantly! No need to setup an account.
SHIPPING CHARGES – CANADA TO THE UNITED STATES
Wondering what it would cost to ship one of our products? It's easy – to receive an instant estimate of the shipping cost, simply add products into your cart and enter your zip code.
HOW DO I GET AN ESTIMATE ON SHIPPING?
This would be the same essentially as the one above, you fill out the orders and follow through to check out you would essentially be able to see how much shipping you would be paying.
WHO DO YOU SHIP WITH?
Protect Asphalt Online ships with the trusted international shipper Fedex.ca
DELIVERY METHODS:
Standard Delivery: The economical delivery method.
Expedited Delivery: The fastest service for a small premium.
Scheduled Delivery: Items that are usually larger and heavy. Not available for Store Pickup or Expedited shipping. Does not include Remote Locations.
CAN I SHIP TO PO ADDRESSES?
Yes. To make sure that orders being sent to PO boxes and rural route addresses get to their proper destination, please include a physical street address or highway number with your order. Items that are over 30KG (approx 66lbs) will only be available for pick up at the local courier pick up depot.
PLEASE NOTE – IMPORTANT
Over sized items, scheduled delivery items, and dangerous goods (such as pressurized CO2 canisters) require a civic address and cannot be shipped to PO Boxes.
To ensure that orders shipped to PO boxes and rural route addresses get to their proper destination, please include a physical street address, highway number and/or an emergency number when you place your order.
Delivery services may vary by carrier or location and may require pickup of product(s) at a local postal outlet or distribution center.
Scheduled delivery items require a physical street address, highway number and/or an emergency number with your order.
*Holiday delivery deadlines only apply for products that are in stock at the time of purchase. An additional delay of 3-5 days can occur for web-only products. Please note that this is not a delivery guarantee as further delays that are out of our control may still occur.
HOW DO I TRACK MY ORDER
You may track your package by linking to the website of the carrier (e.g. Fedex.ca) and using its tracking ID number. This link can be found in the confirmation email you received when your order was shipped.
Alternatively, to obtain your carrier and tracking ID number, go to Track My Shipment on the Fedex.ca home page.

 Please note that tracking may not be available for up to 24 hours after placing your order.
Account holders can sign in using their email address and password. Once logged in, select the order you wish to track, then select "Track this shipment" to obtain tracking info.
CAN I CHANGE MY SAVE SHIPPING INFORMATION?
Please contact Pro-tect Asphalt TOLL FREE: 1-800-465-0024 and speak to a Customer Service Representative to change your shipping information.
 Pro-Tect Asphalt has been an asphalt business for over 30 years with international expansion targets for the United States of America.
Save
Save
Save
Save
Save
Save
Save
Save